Congratulations to G12 students this year on excellent IBDP scores!
Pass Rate – 100%Average Score – 35
(World Average Score – 29)
With their splendid IBDP scores, G12 graduates this year have received offers from top universities around the world.
University College London #8
The University of Hong Kong #25
The University of Manchester #27
The University of Toronto #29
The Hong Kong University of Science and Technology #32
King's College London #33
The University of Sheffield #78
……
Boston International School offers an immersive environment of international education. Now the enrollment for 2020-2021 academic year has started.
Boston International School (BIS) is the only international school in Wuxi that has been authorized by IBO to offer courses from kindergarten through high school. With a solid educational foundation, BIS develops students whose credentials are recognized and accepted by universities around the world.BIS was built with a local government investment of 350 million yuan; it is designed to have a capacity to enroll over 1000 students, and implements a 16-year consistent system from 18-month-old to 18-year-old children. From campus design to project construction, from program design of curriculum to staffing of teachers and staff, Boston International School is completely based on the standards of first-class international schools.

All classes are set within the limited student number of 20. The average teacher-student ratio is 1:6, which guarantees teachers to find out the advantages and disadvantages of each student. All student will be guided in accordance with their own potentials while in the frame of IB curriculum.

Boston International School nurtures the curiosities and talents of our learners so they grow into confident, internationally-minded citizens in a diverse and inclusive community.

Our strong curriculum system and professional faculty are the guarantee of an integrated development of all students. We offer world recognized curriculum system to ensure the smooth transition for students either with international or local education background.
IB Continuum Curriculum (ONLY one in Wuxi)
Cambridge IGCSE
American College Board Advanced Placement (AP)
Boston International School has an experienced team of international teachers. All subjects are taught by native English-speaking teachers except for our world language courses.
Our 70+ international teachers are educated around the world; and more than 1/3 of the teachers have a master's degree or above.
From over 10 countries, including US, UK, Canada.
Own teaching certificates from their own countries.
An average of more than 10 years teaching experience, more than 5 years of IB teaching experience.
The enrollment for 2020-2021 academic year has started. Students who meet the enrollment requirements are welcome to apply. If any vacant place available, students can join our school in the middle of a semester after entrance exam.The admission office is fully functional during the summer holiday. You are welcome to appoint a campus tour at your convenient time.
Below are three ways to apply for BIS. Please refer to the most convenient way for you.Way 1 – Through WeChat
Enter BIS official account.
Click Contact and then Apply Online.
Click the flag for your target language.
Click Apply Now, fill the form and submit all required files.
Way 2 – Open Applytype https://boston.openapply.cn/ in your browser to BIS apply page.
Click the flag for your target language.
Click Apply Now, fill the form and submit all required files.
Way 3 – Through official website
Type http://www.bostonis.org/ in your browser to BIS official page.
Click the flag for your target language.
Click Apply Now, fill the form and submit all required files.
Scholarship
To encourage students to pursue their academic achievements, Boston International School proudly provide 2020-2021 Academic Excellence Award for outstanding students who are highly academically potential.
Please click below picture to learn more.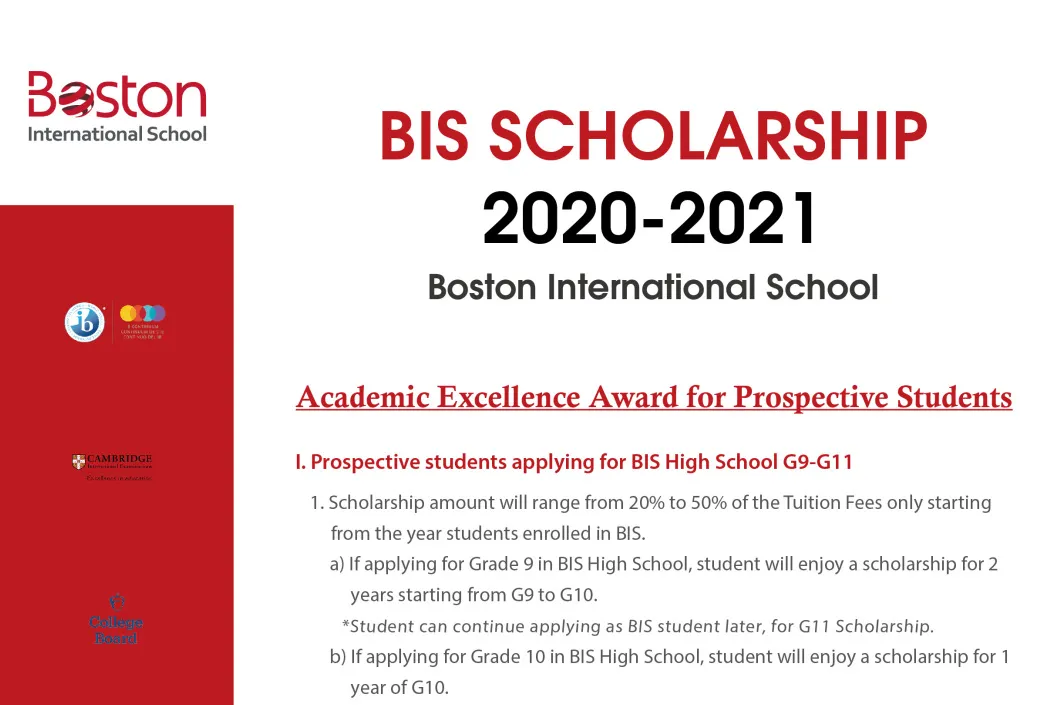 Congratulations to the current students who are awarded with the scholarship. Wish them would make continue efforts for further academic progress!